In the News
Since beginning his first term on the Alexandria City Council in 2016, Councilman Willie F. Bailey, Sr. has been pragmatic and a no-nonsense advocate for people all across the City of Alexandria. Councilman Bailey's priorities over his first term include bringing more affordable housing to Alexandria, ensuring schools have the facilities and tools for the City's youth to succeed. He now seeks his a second term to continue his fight to make Alexandria a place for everyone.
Rookie councilor Willie Bailey to run for reelection
By: Missy Schrott, Alexandria Times
Two years into his first term as a city councilor, Willie Bailey said he spent a lot of time debating whether to run for reelection. In his considerations, however, he said there was a deciding factor he kept returning to – it's worth it.
Council Member Looks at Increasing Meals Tax
By: Alexandria Living Magazine Staff
Alexandria City Councilman Will Bailey is reportedly considering proposing a 1 percent increase to the City of Alexandria Meals Tax. The additional funds would be dedicated to expanding affordable housing in the city.
Alexandria Reconsiders The Meaning Of Its Confederate 'Appomattox' Statue
By: Patrick Madden, wamu.org
The violent clashes in Charlottesville have intensified the debate over whether cities should remove their Confederate statues. That's especially true in Alexandria, Virginia, home to one of the most celebrated Confederate memorials: the "Appomattox" statue.
By: Alexis Epitropoulos, Alexandria Times
The city's Director of Housing Helen McIlvaine and budget officials presented five options at the work session on affordable housing, including an additional tax on restaurant meals, a voluntary contribution at restaurants, a real estate tax increase, a personal property tax hike and a higher tax on hotel stays. The debate was docketed upon the request of Councilor Willie Bailey at last week's budget presentation.
By: Chris Teale, Alexandria Times
He is set to become Alexandria's newest city councilor in January, but Willie Bailey does not consider himself a political person by traditional definitions.
"I don't see myself as a politician," he said in an interview last week. "I just see myself taking time out of my day to go fight for things that people want fought for in their city. I say, 'No, I'm not a politician, I'm an Alexandrian first.'"
By: John Domen, wtop.com
Nearly 500 brand-new jackets are being given away to needy families in Alexandria as part of Operation Warm and Firefighter Coats for Kids, an endeavor started more than a decade ago that has expanded to hundreds of other fire departments around the country.
The program was started by city councilman Willie Bailey and community outreach coordinator Michael Johnson, who grew up together in Alexandria. Bailey is now a battalion chief with the Fairfax County Fire Department.
By: Patricia Sullivan, The Washington Post
The city of Alexandria, Va., has quietly removed a portrait of Confederate Gen. Robert E. Lee that hung on the wall of the City Council chambers for 54 years, relocating it to the Lyceum, a local history museum.
"With all that's going on in the country, with statues and all that, I think [the museum] is where it belongs," council member Willie Bailey, a Democrat, said of Lee's portrait. "That's where history is."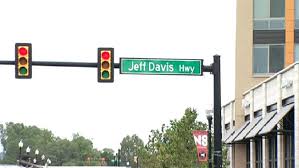 By: Jenny Glick, wtop.com
In a unanimous vote Saturday, the Alexandria City Council has decided to change the name of Jefferson Davis Highway, a roadway named for Jefferson Davis, the president of the Confederacy.
"I could honestly say, personally, raise my taxes to pay for it, to satisfy my parents, my grandparents," Councilman Willie F. Bailey Sr. said.